A timber-cutting business has carved through its workload since purchasing its first Toyota Huski skid steer loader, using it to move 30 tonnes of timber in a single day.

Fox in the Woods, located in Tamworth, New South Wales, recently purchased a Toyota 5SDK9 skid steer loader, after much research and preparation.

Fox in the Woods is a family run business that gathers timber and repurposes it in various forms, as owner, Justin Fox, explained: "My partner and I run the business and we focus on creating handmade timber products," said Mr Fox.

"We use a lot of recycled timber and hardwood timber from farms. We mill all our own timber to suit, whether it be dimensional timber for building right down to kitchen chopping boards and platters.

"The Huski skid steer comes in as our heavy-lifter. We might go out to a farm and grab some felled trees, or a farmer might have a stack of wood in preparation for a bonfire and I will just go through it and pull the good bits out of it. They would only have to burn it otherwise, so it's real recyclability.
"Or a tree-cutting company might ring up and say, 'look we've got this wood if you're interested' and I'll say 'absolutely', so they can drop it to my yard, or I'll go and pick it up with the Huski and load it onto my truck. Conversely, I sometimes work alongside the tree-cutting companies and take my Huski along to help them with their jobs."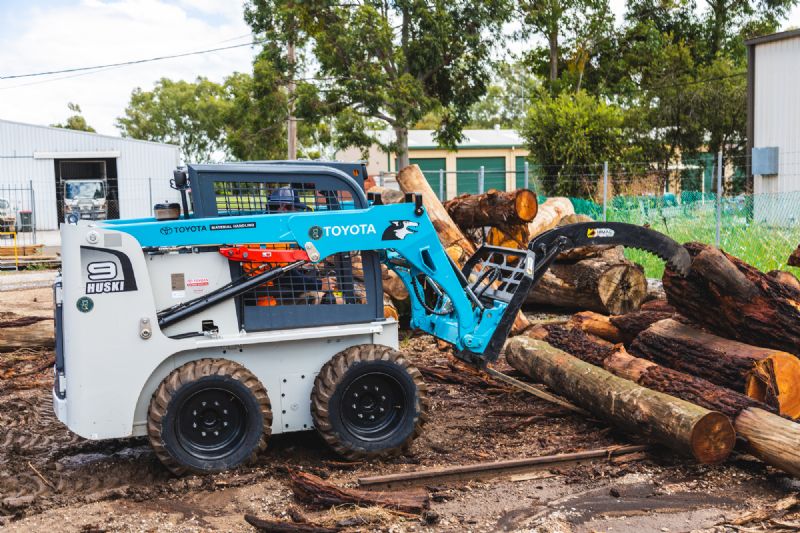 Mr Fox far from rushed into his purchase decision, first meeting Toyota Material Handling Australia (TMHA) Newcastle area sales manager, Allan Peacock, many years ago. "I met Justin at the AgQuip Field Days in Gunnedah, in 2017, when he came to have a look at our Toyota Huskis," said Mr Peacock.

Mr Fox mentioned he was considering a skid steer loader. "I told Allan three years ago, or so, that I would be purchasing a skid steer loader," said Mr Fox. "He must have known I was fair-dinkum because he persevered even though I was looking at a lot of different brands of skid steer loaders.

"Allan would call me up to see how I was going with the process and he always followed through with what he said. He never gave up on me. He knew exactly what it was all about and I ended up getting some quotes."

Mr Fox's purchasing diligence extended to hiring Huskis from local companies. "One of the biggest things that got me over the line with the Huski was that all our local hire places stock them. I had to ask myself why and the answer is because they are durable machines that are less likely to break down, because of their mechanical simplicity.

"I'm a plant mechanic by trade so I understand how they are built. I knew that because it's a 'basic' machine it was never going to let me down on site because of a computer or controller. The Huski is all 'nuts and bolts', you can really understand how it works so it's easily fixable on site if something does go wrong. It's mostly mechanical, with more rods than wires, things you can pull apart and weld back together.

"It also helps that we have the Huski service centre in Tamworth just in case I need them. They also come out to do the servicing as part of the warranty. I might keep them doing the servicing or perhaps in the long-term do it myself."

Mr Fox's research led him to favour the Toyota Huski range's largest skid steer loader: the 5SDK11, however TMHA's Mr Peacock advised Mr Fox that an 5SDK9 would better suit his requirements. "Initially I was planning to buy the big Huski, the 5SDK11, but Allan talked me through the range and recommended the smaller 5SDK9 because the engine horsepower was more than ample, it had the stability I needed for rough terrain and also because it had the best radial lift versus vertical lift.

"I've also started moving into earthworks, so I'll probably buy an 5SDK11 to specialise in that, down the track."

In the consultation process TMHA's Mr Peacock considered Mr Fox's many duties and suggested several attachments including a Digga 4 in 1 general purpose bucket, Digga 300mm and 450mm Auger Drives with Tungsten Tips, a Norm Reversible Stick Rake and a HIMAC Pallet Fork with Grapple attachment.

Mr Fox's favoured attachment is the grapple that allows him to lift and hold large timber logs whilst traversing uneven ground, without losing control of the load.

"That grapple attachment is unbelievable, it's worth its weight in gold. You can grab and pull with it, crush things. Pick things up, run them around, throw them on my truck. I've had jobs removing old tanks and I just drive it straight into the sides of them.

"It does a phenomenal job, carrying around three-tonne logs all day. On my first day with the Huski I moved 30 tonnes of logs a good distance to my truck, which was amazing.

Such productivity has made Mr Fox's investment a worthy one. "It has been a big investment for our business but it's already paying for itself because of our massively increased efficiency and production. It's paying for itself in hire fees, alone."

Things have come a long way for Mr Fox, who started out with "Just a chainsaw and a trailer. Having this multi-purpose machine that can grab everything I need has made such a huge difference to our business. It's the difference between getting up in the morning and being able to pull my boots on because I haven't had to manually lift anything. It makes a big difference to my body."

Asked about his favourite Huski feature, Mr Fox said "It's the controls. The forward and reverse controls are red-hot. I like how you're just sitting in it and it's happy days. It's so natural to drive."

So impressed with his herculean workhorse was Mr Fox that he felt compelled to call TMHA's Mr Peacock.

"I rang him once at seven in the morning and said I needed to talk to him about the Huski. He was a little bit worried because I said I had a problem with the machine. He asked what it was and I said it's too bloody good!"
For more information free call 1800 425 438 or click here to contact us